1000 health facilities throughout Africa improving quality with SafeCare
Watch our video
This year SafeCare celebrated recruiting the 1000th clinic into its program. The internationally recognized quality improvement program is helping clinics in Africa to provide better and safer healthcare to about 1 million patients every month.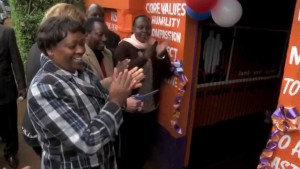 The currently over 1200 facilities in Ghana, Tanzania, Nigeria, Namibia and Kenya offer quality primary and secondary health care services to communities in both rural and urban areas. These mainly small clinics, maternity wards and district hospitals provide nearly half of primary health care in Africa. In particular to the vulnerable and the poor. In order to meet health related Millennium Development Goals like improving maternal health care and reducing child mortality, it is important to ensure the quality of health care services offered at village level and in resource restricted settings.
SafeCare celebrated this important milestone at the Ahadi Maternity Healthcare Clinic in Kenya, one of the 1000 clinics that has made exceptional progress in the program. Speaking during the celebration, Governor William Kabogo noted that access to quality healthcare services is a basic right. He urged all health facilities across the country, public and private, to sign up for the program to improve their services despite resource constraints: "It is hurtful when people, mainly the poor, lose their lives as a result of poor quality health services. This is totally unacceptable."
Ahadi, specialized in maternity care, joined the program last year. After its first SafeCare assessment, the rural facility received a tailor-made improvement plan which guided them to improve in patient safety. Using this step-by-step approach and SafeCare's technical expertise and support, the facility was able to improve and expand its infrastructure, clinical services and infection prevention.
"Improving quality of services offered, is a matter of life or death. Previously, we could not provide critical healthcare management and patients had to be referred to hospitals which are 35 kilometers away.  Following the upgrade through SafeCare, we are now able to offer these services. In fact, we have seen a 20 percent increase in the number of patients," said Grace Njuguna, the proprietor of Ahadi.
In response, SafeCare director Nicole Spieker stated: "Ahadi is a prime example of what can be achieved if all partners and especially the staff create a mindset geared towards continuously improving services for their patients. With 1000 facilities in the program and new ones joining every day, SafeCare is determined to raise the bar for quality all over Africa."
By measuring the level of quality through set standards accredited by the International Society for Quality in Healthcare (ISQua), SafeCare creates transparency for patients, providers, insurers, banks and governments, acting as a tool for self-regulation and benchmarking. Transparency of the quality of care is at the heart of creating trust in the healthcare system. It helps providers attract more patients and it enables facilities like Ahadi to self-finance improvements through access to loans or by enrolling in (national) insurance schemes. This is crucial, if private facilities are to progress, they require access to capital to upgrade equipment, infrastructure and manpower.
On a larger scale, SafeCare helps build institutions that can objectively measure and rate levels of quality and patient safety in public and private facilities. For this reason, the program has set up strategic partnerships with the governments of Nigeria, Tanzania, Kenya and Ghana, firmly embedding the methodology in the legislative environment of these countries.
The SafeCare program was launched just three years ago by the Dutch organization PharmAccess, the US based Joint Commission International and the South African organization COHSASA, with main funding from USAID, the Dutch Government through the Health Insurance Fund, and the Gates Foundation/DFID funded AHME program.