Diamond Bank Nigeria launches new medical loan product
MediLoan will help clinics to improve their quality.

Lagos/Amsterdam, Thursday 21 August 2014 – Medical Credit Fund has launched a new medical loan product with its partner Diamond Bank Plc, a leading retail bank in Nigeria. This loan, called MediLoan QualityCare, will provide affordable credit for private primary healthcare providers. In addition, these healthcare facilities will benefit from the SafeCare quality improvement program.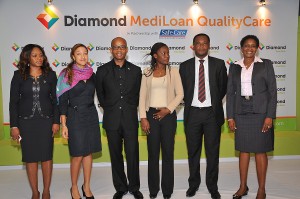 MediLoan QualityCare gives hospitals, clinics, nursing homes, laboratories, diagnostic centers and other medical establishments the opportunity to invest in their own quality. In addition to a bank loan, they receive training as part of the internationally recognized SafeCare quality improvement program. This helps clinics to carry out necessary improvements such as renovations and expansions or buying medical equipment. As such, the quality of their healthcare services will improve.
Medical Credit Fund helps clinics to qualify for traditional bank loans. "We offer support in developing a business plan and provide business and quality trainings to help clinics understand where there is room for improvement," says Uzodinma Osisiogu, Program Director at the Medical Credit Fund.
Impact on the healthcare sector
Uzoma Dozie, Deputy Managing Director of Diamond Bank Plc.: "This partnership with Medical Credit Fund and SafeCare gives us the opportunity to have a positive impact on the healthcare sector." Besides generating new business for the bank, MediLoan will help enhance quality service, increase trust, and improve access to healthcare services as well as promote enterprise governance.
As Dr. Chidi Oguamanam, a medical practitioner present at the launch, said: "If we have enough funds to help establish and get this place to work like all other places work, I'm telling you the sky will be our limit when it comes to medical care."
The MediLoan loan product is fully integrated in the Diamond Bank loan portfolio and is being marketed under the Diamond Bank brand. It is currently available in Lagos and will expand to Ibadan, Enugu, Awka, Owerri and Umuahia shortly. With MediLoan, Diamond Bank believes it can contribute to the improvement of operating standards of healthcare services in Nigeria as well as to the growth of the economy.
Nigerian Channels Television produced a news item on the launch.