Remembering
Joep Lange and Jacqueline van Tongeren
It is with deep sadness that we have learned that our beloved and greatly admired colleagues Joep Lange and Jacqueline van Tongeren were on board Malaysian Airlines flight MH17. They were en route to the International AIDS Conference in Melbourne.
On this page we would like to share with you the honorary mentions of Joep and Jacqueline.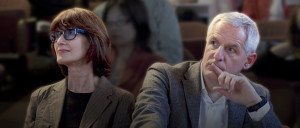 Hare Majesteit Koningin, Maxima UN Secretary General's Special Advocate for inclusive finance for development
"Some years ago, in my work as UNSGSA, I had the pleasure of joining forces with Joep Lange on improving access to health insurance in Africa. I will never forget his inspired and well thought way of working, but most of all the passion and involvement with which he approached his mission and developed PharmAccess. I am deeply saddened by this loss."
Prinses Mabel van Oranje
"I'm devastated about the loss of the inspiring Joep Lange and Jacqueline van Tongeren. True pioneers with big hearts."
Kees Storm, Chairman Health Insurance Fund
I met Joep Lange for the first time in 2004, together with Onno Schellekens. Joep -founder and Chairman of PharmAccess- asked for my involvement in setting up a new initiative: the Health Insurance Fund. I was immediately captured by his unprecedented intellectual quality, dedication and tenacity.
Joep never stopped. After launching the Health Insurance Fund he continued following his course to scale up AIDS care, treatment and research and over the years expanded it with new ways of financing health, improving quality of care and setting up a new research institute, the Amsterdam Institute for Global Health and Development.
Joep was a friend, world class scientist and a true visionary leader. He has been a driving force in leading all of us on the road towards an AIDS free generation and affordable access to quality care, especially in developing countries in Africa and Asia. My heart goes out to Joep's and Jacqueline's family.
Bill Clinton, Founder Clinton Foundation, 42nd President of the United States
"The loss of our colleagues and more than 290 others in what appears to have been a deliberate act is a stark reflection of the negative forces of our interdependence. People who don't want a future of inclusive economics, inclusive governance, inclusive communities.
In 2003, Joep Lange when we were just beginning at CHAI helped us scale up AIDS treatment and care in Tanzania and South Africa. He continued to help us in the years since. He and the five other colleagues we lost lived lives which are overpowering in their contribution to a shared future. Those who shot them down and who provided the means to do so represent the other side in our struggle to define the terms of our interdependence. The open hand against the clenched fist. Inclusive politics and economics versus division and dominance. Cooperation against control. Life against death."
Desmond Tutu, archbishop emeritus of Cape Town, Nobel peace laureate and member of the Elders
"Dr. Joep Lange was a dedicated and compassionate healer. He was passionate about finding a cure for the scourge of HIV/Aids and worked for its eradication with a passionate commitment. We have lost someone we just could not afford to lose and pray God's comfort for his loved ones and colleagues."

Sweder van Wijnbergen, Professor of Macroeconomics and International Economy, University of Amsterdam
"There is probably not one single person from Joep's generation who has saved and will continue to save as many lives as he has done. Not yet satisfied with his own groundbreaking work that helped to transform HIV/AIDS from a death sentence into a chronic disease, he felt it was morally unacceptable that medical science had found a way to bring about this transformation, but that it was not sufficiently available in Africa. Here of all places, where the disease was spreading most swiftly, the majority of patients had no access to the medicines and care environment required to provide effective treatment, due to poverty and lack of infrastructure. The innovative and driven manner in which he, by founding PharmAccess, changed the situation for the better in a growing number of countries in Africa is breathtaking.
He achieved something many people only talk about: effective development work through local private sector involvement. By doing so he has given millions of people a new chance for a dignified existence. Thanks to his enormous scientific reputation, his don't-take-no-for-an-answer attitude and strong sense of moral purpose, he successfully avoided the swampland of inertia so many initiatives get stuck in. During the early days of PharmAccess, I worked together with him intensively, an experience I am still thankful for. He was the most impressive person I have ever met."

Lilianne Ploumen, Netherlands Minister for Foreign Trade and Development Cooperation
"We pay tribute to Joep Lange and Jacqueline van Tongeren.
Joep, a well-respected and renowned pioneer in HIV/Aids research and his colleague and partner Jacqueline, who played an important role within the Amsterdam Institute for Global Health and Development.
Joep was dedicated to making HIV / Aids medication available to everyone who needs it, in all parts of the world. In this vein he worked with countries like Nigeria, Kenya, Tanzania and Uganda and focused on the nexus between health care and economic development. Joep's views on cooperation with the private sector in health insurance were innovative, unorthodox and not immediately popular in a scene that long was the exclusive domain of the public sector.
We will miss an inspiring and soft-spoken man, who was not afraid to challenge himself and others. A man who was not afraid to be the change he wanted to see.
With the passing of Joep and Jacqueline we lose two people who made the world a better place.
They will be dearly missed."
Agnes van Ardenne, Voormalig Minister voor Ontwikkelingssamenwerking
"Joep Lange is no more. A towering example of humanity, a global player to be reckoned with. His dream and his love for life have been interrupted in the most horrific way by one single act of hate. As a researcher, a physician and a pioneer, Joep dedicated himself unstintingly to affordable and available healthcare for AIDS patients and other patients. Innovative ideas were continually tested and elaborated on. One such idea resulted in the creation of the Health Insurance Fund in a number of African countries, a novelty at the time in the development world.
He was prepared to stick his neck out, and this inspired colleagues, entrepreneurs, and politicians to join him. His indefatigable quest to establish the right to healthcare for everyone and everywhere was contagious. He found this the most natural thing in the world. His goal, after all, was to heal each and every person and humanity as a whole. He inspired hope in the heads and hearts of many. As a passionate globalist, he was always on the road. Joep never traveled alone wherever he was, people listened to him. We will miss his inspiring presence and his efforts, but his dream will live on. May he rest in peace."

Ambassador John Simon, Founding Partner Total Impact Advisors. As Special Assistant to the President and Senior Director for Relief, Stabilization and Development for the National Security Council at the White House he oversaw the implementation of groundbreaking development initiatives such as President's Emergency Plan for Aids Relief.
"Joep was a truly remarkable man. Though our schedules allowed us to see each other only a few times a year, every time I saw him he greeted me like an old friend, full of warmth and kindness. That jovial character masked an iron will.  When the WHO declared that it was too difficult to treat people in Africa for AIDS, Joep said if the international health agencies would not treat Africans with AIDS, he would find a way to do so without them. He convinced a number of Dutch multinationals to provide treatment to their African employees, and that effort laid the technical foundation for PEPFAR and the Global Fund. It is no exaggeration to say Joep is responsible for millions of people being alive today.
Anyone who knew Joep must feel intense anger that such a senseless act could destroy such a great man. Perhaps it is the same anger Joep felt when the WHO declared that people in Africa were not worthy of treatment for AIDS. He took that anger and used it to save the lives of millions of people.  While we mourn Joep's death, we must take our anger and put it at the service of the cause for which he lived – justice and development for every soul on this planet.
Joep's loss is a great tragedy – for his family, his friends, his colleagues, and the world.  Yet among the many emotions I feel at this time, one is gratitude for having been lucky enough to have known Joep and played a small part in supporting his efforts – both through PEPFAR and our work with PharmAccess. What we do today at Total Impact Advisors would not have been possible without Joep and his colleagues at PharmAccess showing us the way to use investment to achieve extraordinary social impacts."
Professor Peter Mugyenyi, Director of the Joint Clinical Research Institute, Kampala, Uganda
"The passing of Joep came as a severe shock to us who have known him since late 1980s as a friend and colleague. Millions around the world especially in Africa are now alive because of the contribution that he made to the scientific knowledge in the management of HIV/AIDS. We shall miss this gentle, humanitarian person and great scientist of our time. I join you and all colleagues all over the world in mourning."
Dr Catherine Kyobutungi, Head Health Challenges and Systems Research Program & Director Policy Engagement and Communications, African Population and Health Research Center, Nairobi, Kenya
"Joep was a gentle giant – a visionary that touched the lives of the many people he interacted with. It was hard to imagine that a man with such humility had achieved so much. At a personal level, Joep has such belief in me as a scientist that I had no choice but to live up to that expectation.
While Joep was known the world over as an HIV researcher our interaction was solely in the area of non-communicable diseases where he was bringing the same energy, passion and experience that he had put into fighting HIV. The world is sadder and poorer……"
Henk Rijckborst MD, former Chief Medical Officer Heineken International
 "I am eternally grateful to him that he aimed some of his activist arrows in our direction, too, and that we were able to develop something together that let us show the world that the impossible really is possible."
Jacques van der Gaag, professor Development Economics, University of Amsterdam and senior fellow Brookings, Washington D.C.
"Joep is a phenomenal scientist, but I know many very good scientists. He had a special and rare quality. With all his energy he tried to translate his knowledge into action to make the world a better place. The best example of this was to make HIV/AIDS treatment available in Africa. He was the driving force behind this at a time when nobody believed that it would be possible.
Joep didn't chose the conventional route. That would have been to push the World Bank etcetera to make the drugs available, but local governments would have been unable to make that happen. Joep went directly to the people with big money, the large multinationals. He approached the problem his way, because he had a unique vision on how it would be possible to supply the people in Africa with the right drugs. He made some enemies, but he achieved a lot.
One of his many good qualities was also that he was very flexible in his thinking. Gradually he realized that supplying drugs wasn't enough to help the people in Africa, but that they needed a decent package of primary care including HIV/AIDS treatment. Joep never stopped analyzing, but he also acted on his conclusions. I have the utmost respect for him and we had a great working relation, but we also shared a passion for literature.
He was still so full of new ideas. A month or so we were on a flight together following a visit to Duke University and discussed how it is normal to continue working after 65. 'You are 60, you still have at least ten more productive years in you', I told him. 'But that is not enough', was his reply."
Akin Osibogun, Professor of Public Health, College of Medicine, University of Lagos & Chief Medical Director, Lagos University Teaching Hospital, Lagos, Nigeria
"It is most sad that Prof Joep Lange who spent a lot of his time finding a solution to the problems confronting others was killed in the shot down plane over Ukraine. This has been a huge loss not only to The Netherlands but to the entire world. His work which will be enduring speaks volume of the personality of this departed global citizen. May the Almighty console his family and grant him a peaceful rest."
Marijke Wijnroks, Chief of Staff at the Global Fund to fight Aids, tuberculosis and malaria. Former Dutch ambassador for HIV/Aids.
Joep
"You will be missed in so many ways. The brilliant researcher who led cutting edge science. The activist who pushed many of us out of our comfort zones to explore new boundaries. The warm personality with a network that spans the globe. The lover of literature and books, with always some good recommendations. The proud father of five. Thank you so much for everything you have done and for everything you have been. I will never forget you."
Jacqueline
"I still cannot believe we will never meet again. You had such incredible energy and such a warm personality. You were great company, smart, fun, thoughtful and always very stylish. Your commitment was visible in everything you did and everything you said. Such a loss for the world, I will miss you dear Jacqueline."
Paul Bekkers, Ambassador for the Netherlands in Poland
Many will remember Joep for his leadership in the HIV/Aids community and on his research that lead to substantial life prolonging treatment. And so do I.
Just starting my job as Aids ambassador in 2005, Joep honored my request to explain to me the exact working of the virus through a 3 hour long private lecture. That was the beginning of our friendship. That has only grown ever since. Our last 'project' together was getting the scientific HIV/Aids conference to Kuala Lumpur in 2013.
However, the true basis of our friendship was something else. Joep moved me by his passion to care for the disadvantaged.  Wherever we were, we made sure to make time to talk about ways to achieve this, but also about children, problems, spiritual issues and, of course, books, be it in the hotel bar in Sydney, on central station in Amsterdam or for breakfast in Toronto.
He had a rather particular and in some ways amusing look at politics and the civil service – which is where I'm from. Odd as it may sound, more than once I advised him to be less diplomatic and less careful than he thought was necessary. Joep was a likeable man. He had strong feelings, but his stubbornness was somehow actually charming. How much will we miss him.
Professor & Professor (Mrs) E.A. Elebute, Founders of Hygeia Community Health Care
On behalf of the board members and staff of the Hygeia Community Health Care (HCHC), I wish to express our deepest sympathy to the PharmAccess Group on the loss of Professor Joep Lange, the Founder and Chairman of PharmAccess and Jacqueline van Tongeren, who were amongst the victims of the MH17 place crash of July 17, 2014.
Professor Joep in partnership with Hygeia pioneered the Community Health Insurance Scheme in Nigeria, particularly in Kwara State. In addition, he was a strong advocate for the provision of access to the HIV/aids care and treatment in developing countries. Through this initiative, over 500,000 people living with HIV/aids have access to quality care and treatment in Nigeria.
HCHC appreciates the opportunity of working closely with him and will remember him for his invaluable contribution to research and development in the field of HIV/aids as well as improving access to quality healthcare through the community based insurance program in Nigeria.
Mrs. Fola Laoye, Chairman Hygeia Nigeria Limited
The entire Hygeia family mourns with PharmAccess, Health Insurance Fund (HIF), Investment Funds for Africa (IFHA), and AIGHD the loss of Joep Lange and Jacqueline van Tongeren in the Malaysian Airlines crash last Thursday, July 17th 2014.
With his vision, inspiration and energy he worked tirelessly for the scale up of HIV/AIDS treatment in Africa and then still gave more of himself to support the innovative funding approach for Access to Quality Care through Health Insurance.
Over the past 10 years, we at Hygeia have had the great opportunity to advance the cause of increasing access to HIV/AIDS treatment as well as to quality healthcare services through the delivery of the Hygeia Community Health Insurance platform, HCHC to the rural and urban poor in Kwara and Lagos states. In addition to being the inspiration that led to this work, Joep took an active role in the operational research, which has now led to a landmark study on cardiovascular diseases among the rural and urban poor in Nigeria.
Joep was also so supportive regarding the campaign for scale up funding of community health insurance, most recently leading the team to the Global Fund in Geneva last October to advocate for funding for the scale up of Community Health Insurance in Nigeria, particularly in Kwara State.
We are thankful to have had the opportunity of knowing and working with Joep and Jacqueline and remain committed to working on our shared vision of increasing Access to and Quality in Healthcare in Nigeria.
Prof. T. M. Akande, on behalf of University of Ilorin Teaching Hospital / AIGHD Kwara Team
Prof Joep Lange, it is painful that we lost you in the Malaysian plane brought down in Ukraine. We will miss your outstanding leadership in research work. In one of my trips to Amsterdam you took me along to attend a HIV/AIDS International Conference that held in Amsterdam even though it was outside my schedule for the trip. Every contact with you was always rewarding and fruitful.
Behind the soft spoken voice is great the great achiever, a leader per excellence who demonstrate so much humility. You have made tremendous impact all over the globe. AIGHD team under your leadership has built and improved capacity among those of us that have the opportunity to be part of the Community Based Health Insurance Impact evaluation project in Kwara State.
Jacqueline, we lost you as well, you worked so hard to produce news bulletin on my inaugural lecture for various program websites and arranged for the coverage of the event here in Ilorin, Nigeria.
God will comfort all of us left behind particularly your families and those you left behind in HIF, AIGHD, AMC, etc. should not allow your legacies to fall must therefore continue your good work.